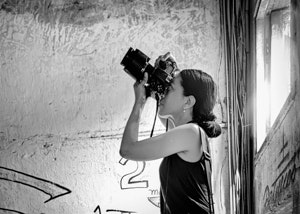 Artist Bio
Fine Art Photographer Andrea Jones, originally from Louisiana, is currently based in the Houston, Texas area. She earned a Bachelor of Arts degree from the University of Louisiana at Lafayette and her Master of Arts degree from Prairie View A&M University. Andrea's fine art imagery has garnered recognition from international photography awards, and her work has been published and exhibited.
She uses her artwork as a medium of personal expression and a way to capture the world around her. Influenced by her professional background, style and aesthetics, Andrea uses her vision and life experiences to create art - primarily with architecture, landscape and travel.
"A great photograph is one that fully expresses what one feels, in the deepest sense, about what is being photographed." - Ansel Adams
Artist Statement
My artistic philosophy on fine art photography is to utilize my vision and artistic motivation to create art, without using the subject as the main purpose. I use my work as a means to express my vision while telling a story.
I create images with an ethereal feel, showing a different world to the viewer. My goal is to incorporate my vision to create art that evokes emotion while being aesthetically pleasing.
---

AWARDS & PUBLICATIONS
2022 International Color Awards - HM for the aerial "Harmony."
2017 Black & White Spider Awards - Winner's Journal Publication
2017 IPA (International Photography Awards) - HM
2017 AIPP WA Epson - Silver Award
2016 AIPP WA Epson - Silver Award
2016 BFP Annual Publication
2016 AIPP Australian Professional Photography Awards - Silver Award
2016 IPA (International Photography Awards) HM for the aerial series "Divine Hand."
2016 IPA (International Photography Awards) HM in Architecture
2015 AIPP Australian Professional Photography Awards - Silver Awards
2015 AIPP WA Epson - Silver With Distinction Award , Silver Awards
2015 EPSON International Pano Awards - Top 50, Silver & Bronze Awards
2015 International Color Awards - Outstanding Achievement in Architecture
2015 BFP Annual Publication
2015 Black and White Spider Awards Nominee in Nature
2014 EPSON International Pano Awards - Gold Award & 7th Worldwide
2014 The International Landscape Photographer of the Year top 101
2013 EPSON International Pano Awards - Silver Award & 14th Worldwide
2013 International Loupe Awards - Bronze Awards


EXHIBITIONS
October 2016 - Women In Focus in conjunction with Atlanta Celebrates Photography, Bill Lowe Gallery, Atlanta USA
October 2016 - She Who Shoots, Digital Arts Studio, Atlanta USA
November 2012 - Geoje Island Group Exhibition, Geoje Festival, Geoje Island, South Korea